We are proud to announce that  Lusa community Chest has been chosen by Mrs Victorius Masoho, Sasolburg's own semi-finalist in the Mrs South Africa Pageant as her benefiting non-profit organisation and will be our Brand Ambassador in the Mrs South Africa Pageant.  This affords us a platform on the Mrs South Africa Website, the gala dinner and finals which will be held at Emperors Palace in November. Victorius will in the run-up to the finals promote our organisation and all it's programs.
With the recent controversy and debate regarding the relativity of pageants in our society, Mrs South Africa is a movement that shines the torch on real women. Real women with real lives, real curves and real problems.
''Mrs South Africa is not the typical beauty pageant. It offers married South African women who have real-life careers, families, and hobbies a platform to make a difference and to empower women across South Africa. Glamour and sophistication are part of the criteria, but the women who enter and win all have those relatable stories we're looking for.'
Victorius has her own NPO Victorius Girls and holds the empowerment of young woman close to her heart thus Lusa's  Abigail Enterprise and the Junior Community Chest programmes resonate strongly with her as do the various organisation that we support with capacity building.  She has offered her business acumen skills and mentorship skills wherever she can make a contribution to our NPO partners.
We wish her the very best in her endeavours throughout her journey.
Please follow Victorius on her journey by visiting the Mrs South Africa Website https://mrssouthafrica.co.za/ and following her on Lusa Community Chest's Facebook page.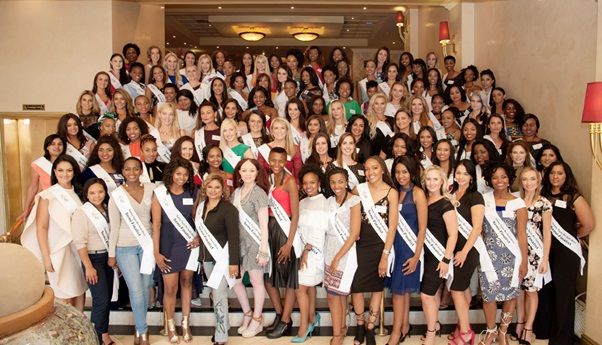 Mrs South Africa 100 Semi-Finalists:  Victorius  ( first row 6th from right in the blue dress)
Victorius delivered an inspiring and motivating key-note address to The Abigail Enterprise participants, sharing her top ten tips for creating and delivering The Brand of You.  We were delighted by her relaxed, confident and professional presence. As an MBA graduate, a business professional and a beautiful woman she is a powerful role model for our girls and women!