New Vision and Hope for ECD Centre's in Rathanda settlement outside Heidelberg
The Gr8Start Program 

N3TC's recent sponsorship enabled Lusa Community Chest to facilitate the Gr8Start Early Childhood Development Program for 13 ECD Centre's in Rathanda settlement outside Heidelberg
Effective teaching requires education and care to be integrated; with learning, development, and experiences for children inter-related. Well-developed ECD programs such as the Gr8Start program provide just such integrated learning.
The program explores activities that equip teachers to stimulate, develop and test the social, emotional and physical intelligence of young children. It enables teachers to monitor and evaluate motor development, hearing and listening skills, eye movements and visual processes as well as the gross motor and fine motor skills in pre-school children to prepare for and ensure school readiness.
In addition the program assists the early childhood educators to change educational practice, beliefs, understanding, and attitudes with regards to the vital role they play in developing well balanced, school ready children by creating an environment conducive to learning.
The Training
The facilitation of the Gr8Start Program occurs over 5 days as a hands-on, practical and interactive course during which early childhood educators are up-skilled with the tools and techniques required to implement and manage an effective ECD program.
The educators are taught how to use recyclable materials to prepare teaching aids and testing instruments for use in their lessons as well as to enhance their classroom environment to create a stimulating surrounding that awakens creativity and learning.
The educators are also taught ways to show the children how to use recyclables for their learning activities such as skipping ropes, aprons and so forth.
The Teachers each received their own learner manual and a basic start-up kit of materials required to create all the essential teaching and evaluation aids.
Educators are also taught that every child is uniquely created with their own special temperament, personality and character.
Focus is also placed during this course on personal development and introspection of the teachers to find out who they really are. The aim is to equip the teacher by lifting their self-esteem in order for them to develop the children in a higher level of balanced well beings.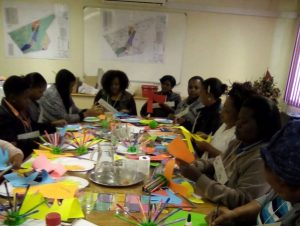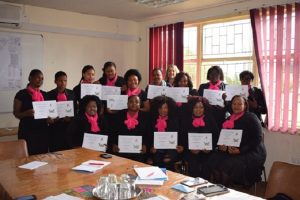 The Principals from the following ECD Centre's attended this programme
1.Busisiwe Mahlangu from Tiny Kids Day Care Centre
2.Evelina Mahlaku from Leratong Day care Centre
3.Audrey Mthombeni from Thabang Thabong Day Care
4.Elizabeth Mthomby from Thato Ke Lefa Day Care
5.Lettia Mngcobani from Bathobile Day Care
6.Puseletso Sebitso from Tshepo Themba Day Care Centre
7.Tabita Mahlaba from Noah's Ark Day Care Centre
8.Simphiwe Khithika from Honey Dew Child Care Centre
9.Peggy Khebisi from Siphilisiwe Day Care
10.Nomasonto Khumalo from Ratanda Thandisizwe Day Care
11.Mlungwana Ketsekile from Lindokuhle Day care
12.Maria Mine from Lehae la Bana Day Care
13.Mkwanazi Fikile from Injabulo Day Care
What the Educators had to say about the Gr8 Start Program
Lettia Mngcotani :  "The kind way that you trained us to discover, "Who I am", lifted me up and helped me to sort out my personal life on many levels so that my family problems and circumstances would not interrupt with my teaching the children. I also learnt that we must not compare the children, we must see them as different butterflies developing in cocoons, but that each one is unique and developing differently.  I will spread this education to all the people around me, all the learners in her centre will have a brighter future."
Busisiwe Mahlangu:  "This training helped me to gain knowledge and skills. We must also go and train children to love and respect all especially that their family is important. I learnt that children must have a balanced healthy food every day, and that babies must crawl while they are small for brain development We used waist material to make different educational toys to develop the children in all areas."
Evelina Mahlaku: "This training has boosted my self-esteem, after discovering more about myself.  I also learnt that love, security and nutrition will keep children feel important. Furthermore we learnt about brain function and how the connections develop through the five senses. There are three types of learners; auditory, visual and kinaesthetic learners. The training was very understandable and wonderful.
Puseletso Sebitso: " I learnt to become a better teacher, as I saw that I am doing injustice to the kids, after this 5 day course, I will use the opportunity to make it up to the learners, as my life has been touched."
Tabita Mahlaba:  "I am so grateful for this training, it helped me to know that children learn through play and that I should not focus on them developing physically only. And the most important thing is having interaction with them."
Mlungwana Ketsekile: " I have learnt about the right and left side of the brain, and how different skills these children have. Also that crawling is very important and that we need to stimulate the children, by doing exercise to develop their eye and hand coordination. We also learnt about hearing and listening skills, and to check the child's ears and eyes ."
Simphiwe Khithika: " I have just started a Day Care Centre, and have learnt so must in this week. We have not received any funding, so we really struggle, but thanks to this course, I have learnt to use what I have, to make educational toys and do not have to wait to buy to teach the learners."
All 13 of these ECD centres are in one settlement outside Heidelberg, and if the lives of these principals were impacted like you see from their testimonies it will also impacts their assisting teachers, children and families and will result change in this community.
Children in these ECD Centres will show improved performance in the early grades, and tend to be more successful in later school. They will also be more competent socially and emotionally, and show better verbal, intellectual and physical development during early childhood than children whose EDC centres have not enrolled in such programs.
These ECD Centres have formed an ECD Association, to support each other, because they all work together and serve the community in a better way as when they are in competition with each other.
This makes it easy to find the correct need analysis in each ECD centre, they all asked for more training, although some of them really need infrastructure, equipment and food.